5 Practical Email Marketing Tips for Aspiring Digital Marketers was originally published on Springboard.
Email is one of the most popular means of communication today. Over 3.7 billion people across the globe are email users. That's nearly half of the world's population! No wonder email marketing is being increasingly used by businesses to develop relations with customers and reach out to prospects. 
Email marketing may not appear as interesting and attractive as the other channels, like social media platforms. But that doesn't mean that email marketing is any less valuable. Did you know that an effective email marketing strategy offers 40 times more ROI than the most popular social channels? 
Read on for practical email marketing tips you can count on.
Build a Killer Email List
A well-maintained email list helps marketers share their brand's story, connect with the audience, and promote their business. Hence, an email list is the core element of a winning digital marketing strategy. Here are a few suggestions that will help you build an email list for your marketing campaigns. 
Include a Pop-Up Form on Your Website
Pop-up forms offer a quick and easy way for visitors to share their contact details when they browse your website. Use a welcome mat, overlay modal, top banner, or slide-in box to create a thriving list full of high-quality leads. Include a striking design, a clear call to action, and an alluring incentive to persuade your visitors to share their email address. 
Check out these examples. The pop-up forms include a clear call to action and an attractive discount for visitors who choose to sign up.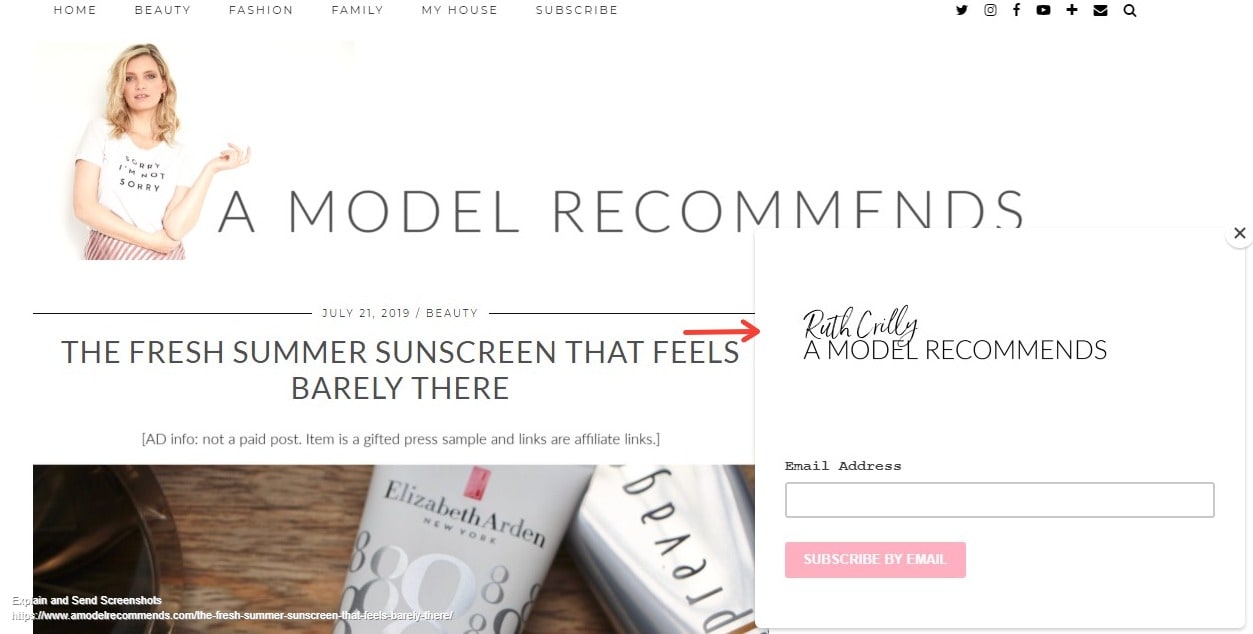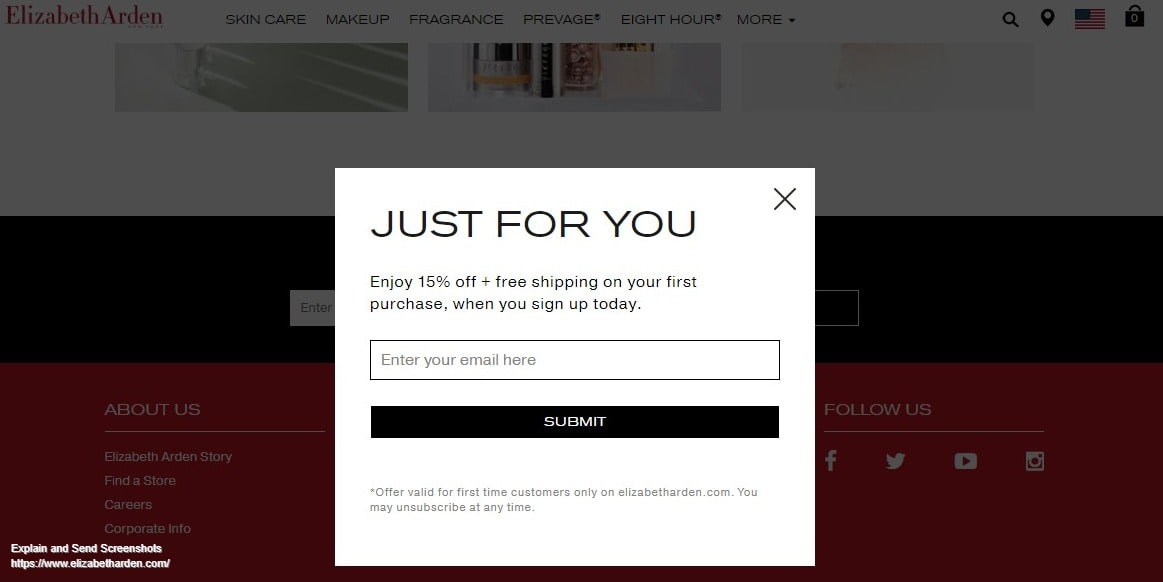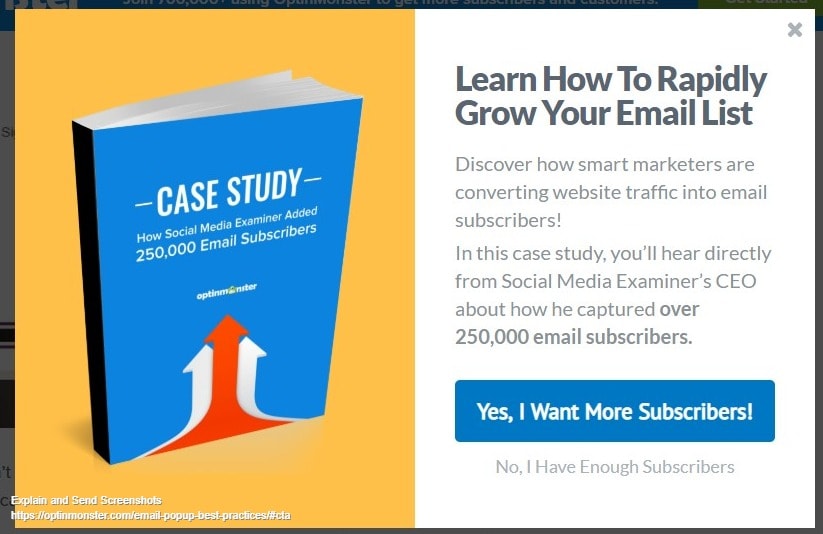 Offer Quality Content
Offering quality content is by far the most effective way to convert prospects into visitors. By posting relevant and value-adding content you are giving your audience a solid reason to opt in to receive your emails.
Make sure you have a well-thought content marketing strategy in place that focuses on offering quality content on your website/blog and social media pages. Further, share high-quality giveaways like how-to posts, infographics, and reports to engage your audience and retain them on your mailing list. 
Clean Your Email List 
A bloated email list full of invalid, duplicate, and spammy addresses can make email clients like Gmail or Outlook think that you are sending spam. Thus, they will automatically direct your emails to the junk folder. 
Scrub your email list by identifying and removing invalid emails, inactive subscribers, and soft bounces. Though soft bounces occur due to the inbox being full and is a temporary issue, consistent soft bounces for an address is enough reason to remove it from your list.
Further, if you have inactive subscribers (the ones who aren't opening or engaging with your emails) on your list, launch a re-engagement email campaign to get them back. The ones who still do not wish to hear from you can be removed from the list. 
Check out these clever examples of re-engagement in email marketing.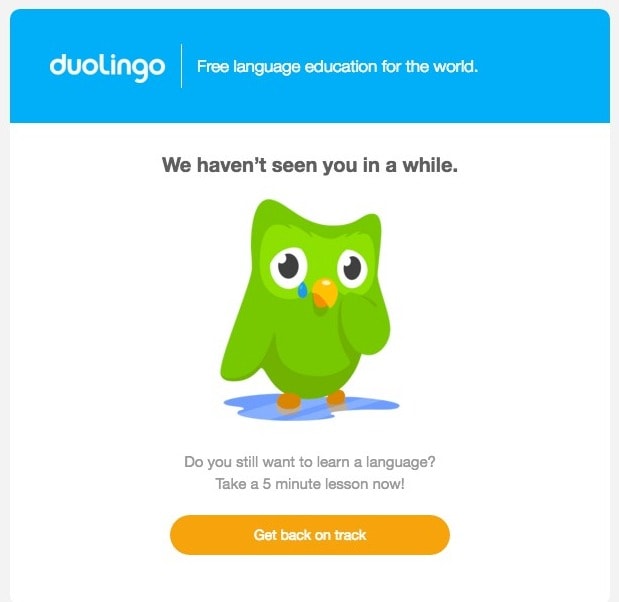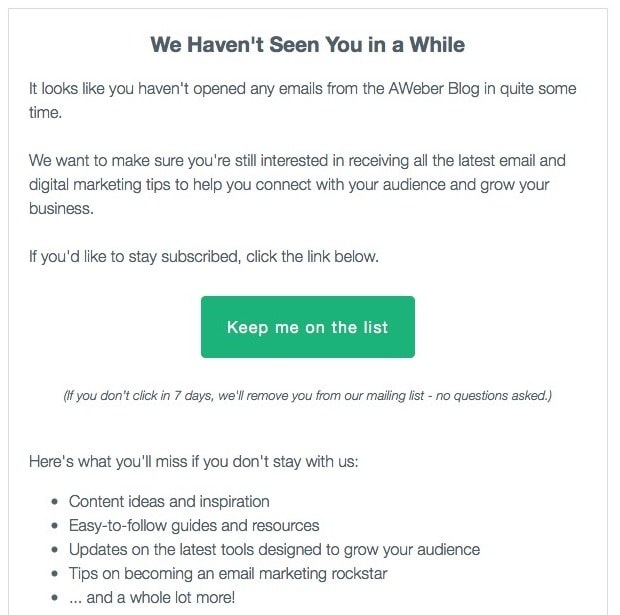 Remember: Content Marketing Starts With the Subject Line
Emails with interesting brand stories, thought-provoking posts, inspirational videos, tutorials, and humor get more clicks than the ones with plain copy. Here are a few tips to create email content that converts.  
Write a Click-Worthy Subject Line 
An interesting infographic by Invesp shares that 47% of recipients open an email based on the subject line. What's even more noteworthy is that 69% of email recipients report an email as spam only on the basis of the subject line.
So, in email marketing, people absolutely judge the book by its cover. Make sure your subject line arouses curiosity and conveys urgency, persuading the receiver to open the email. For instance, include a question to attract attention and boost the chances of your email being read. 
Clickbait titles that promise more than you can deliver are an absolute no. Make sure your email's subject line aligns with the email copy. Finally, perform A/B testing for subject lines to gauge which one works best for your target audience. 
Here are a few examples of convincing subject lines that will likely drive email open rates. 

Check out how online shop Myntra injects urgency and curiosity into its subject lines. 

Create Awesome Copy That Converts
Your email's copy is one of the key determinants of the number of opens, clicks, and conversions your email campaign will bring. Create simple yet effective content that grabs the reader's attention and delivers what was promised in the subject line. This is no time to use complex technical jargon. Instead, use a friendly and customer-centric tone and get to the point without delay. Use you more than we or I in your email copy. 
Customers understand benefits more than features. Hence, write copy that addresses the WIIFM (what's in it for me) for your target audience. Check out how this email from the MarTech Conference 2019 talks about the benefits of attending the event.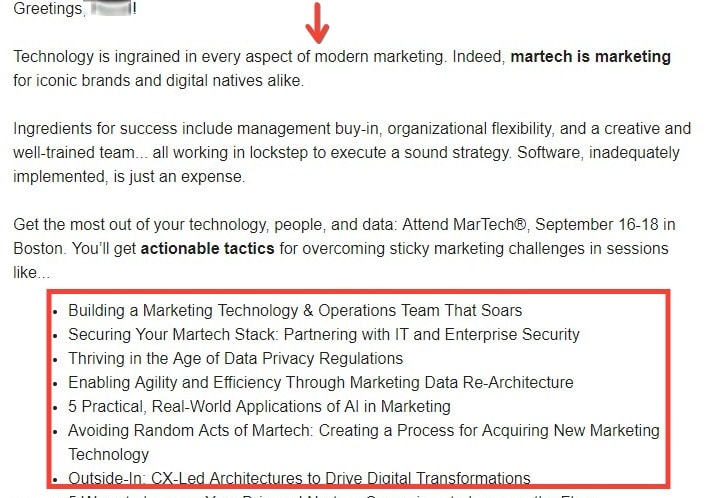 Finally, where possible, use imagery and video content to put your brand message across. It's easy to embed videos in an email; yet, if your subscriber's Gmail, Hotmail, or Outlook account doesn't support HTML5, they will not be able to see the video. To avoid this situation, include an image that looks like a video and link it to video-hosting platforms like YouTube or Vimeo. Alternatively, you can use GIFs to put your brand message across in an effective manner. 
Make Your Content Scannable
The email design shouldn't be overwhelming for your receivers. Align your content neatly using action-packed subheadings that are easy to grasp. 
According to Adestra, 62% of email opens happen on mobile devices.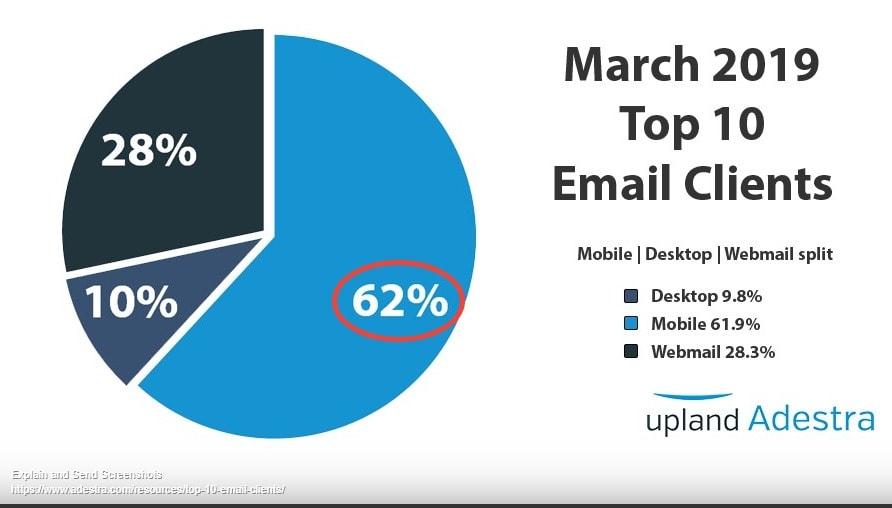 That means it's important to optimize the email marketing campaign for your mobile prospects. Use responsive design to make email messaging scannable on all devices. Further, use short subject lines of about 30-50 characters so the receiver can view it without it getting cut off. Lastly, use compelling preheader copy, giving the subscriber a strong reason to open and read your email.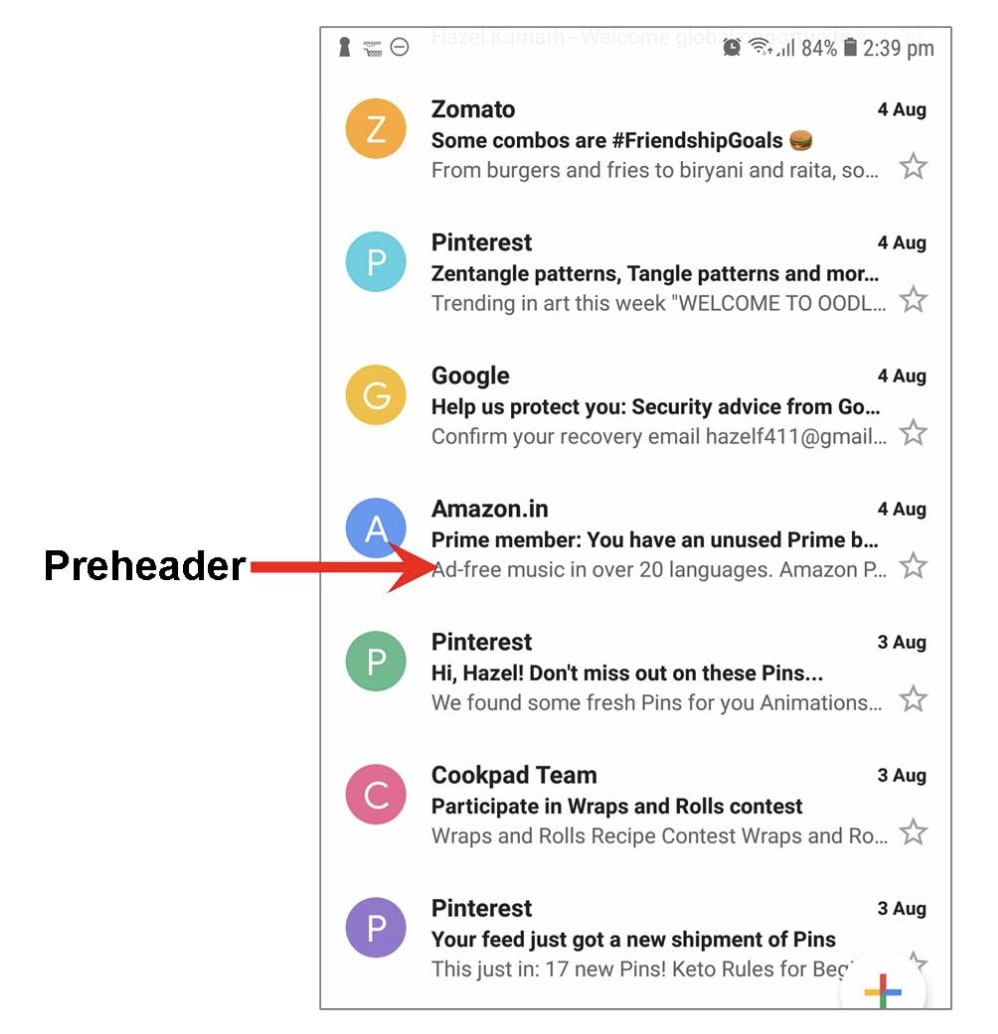 Know the Best Time and Day to Send the Email
To taste success with your email marketing campaign you should be aware of the best day and time to send it. Sending emails at a time when your recipients are more likely to view them will boost the open and click-through rates. 
CoSchedule's infographic shares an analysis of 14 separate research papers that study the best time and day to send emails. Here's what they conclude.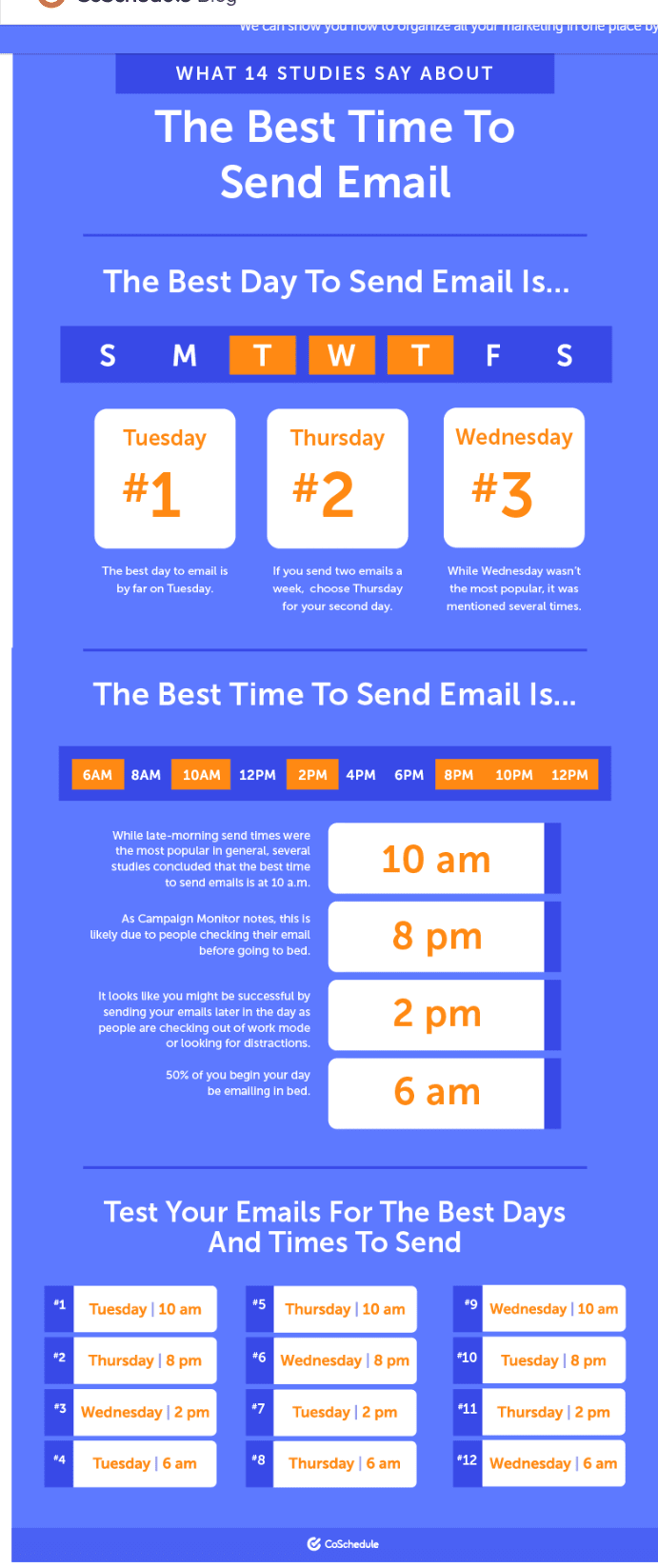 Prioritize your send days to gain more opens, click-throughs, and subscribers.
Duck the Spam Filter
High-quality content and an awesome design play a critical role in maximizing opens and clicks. But it is also important to avoid the spam filters that can negatively affect your email's deliverability rate. Spam filters analyze your emails for good and bad signals and then rank the email. 
For instance, if a receiver opens or responds to your emails you earn a good reputation in the eyes of inbox providers like Gmail. However, if the receiver deletes your email or moves it to junk without opening it, your reputation will be poor. Thus, most of your emails will be sent to the junk or spam folder. Here's how you can send a positive signal to the spam filter. 
Set the Expectation
When people subscribe to your newsletters, ask them how often they want to see your emails. Giving your subscribers the freedom to choose their subscription preferences will significantly improve the engagement rate, reducing the risk of your emails being labeled as spam.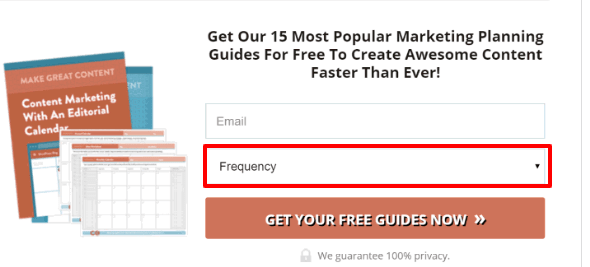 Alternatively, you could mention what you'll be sending and the frequency on the pop-up form itself, giving the recipient the freedom to choose whether or not to subscribe to your emails. 
Send Relevant Emails to Your Target Audience
Avoid sending the same email to all the receivers in your email list. Instead, segment your list and send targeted emails that are relevant to that set.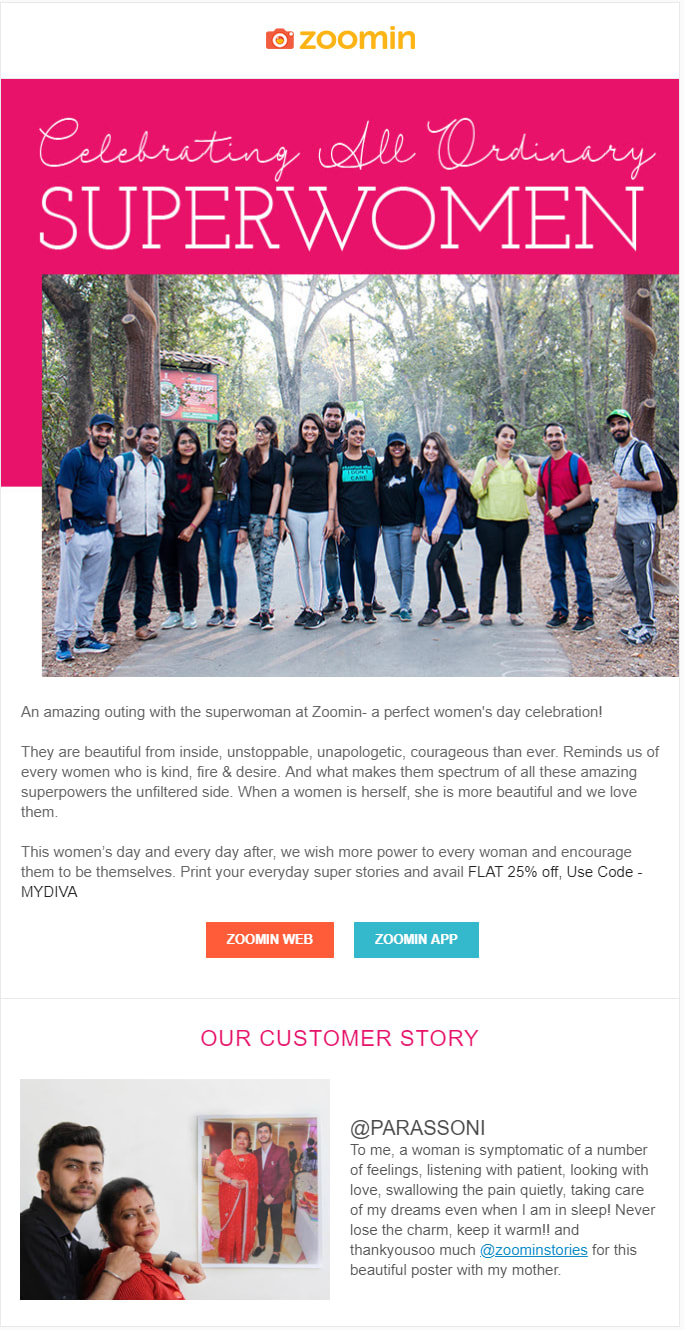 Consider how Zoomin, an app that offers high-quality photo prints, connects with its female subscribers by running a niche Woman's Day campaign. Such targeted campaigns boost the number of opens and engagement, sending positive signals to email providers. 
Set the Right Reply-To Address
Every email response from your receivers is a positive signal to the inbox provider. So, when creating email campaigns remember to use real reply-to addresses like support@yourcompany.com or yourname@yourcompany.com instead of noreply@yourcompany.com. Such reply-to email addresses encourage receivers to reply to emails, thereby improving the chances of your email landing in the inbox.
Don't Purchase or Rent the List
Using a purchased, rented, or scrapped email list not only results in legal ramifications but also leads to high bounce rates, thereby landing your emails in the spam folder. So avoid sending emails to people who haven't given you permission to do so. Instead, offer your target audience the option to sign up for your emails when they visit your website. 
Add a Clear Call-to-Action
All the smart work you've done so far is futile if you do not add a call-to-action button that grabs a subscriber's attention and encourages them to act in your favor. Add a Shop now, Save today, Read the ebook, Start my trial, or Free gift with purchase CTA to spur some kind of activity among your target audience.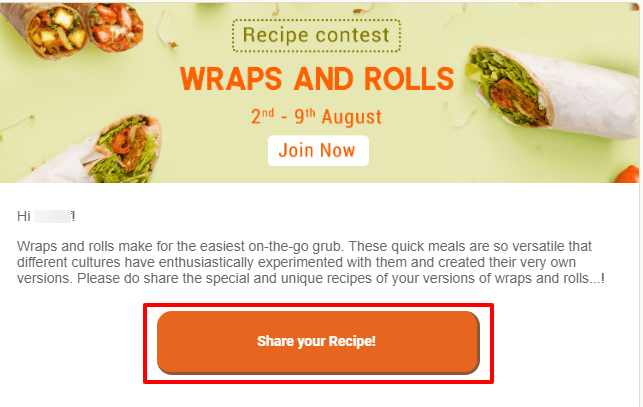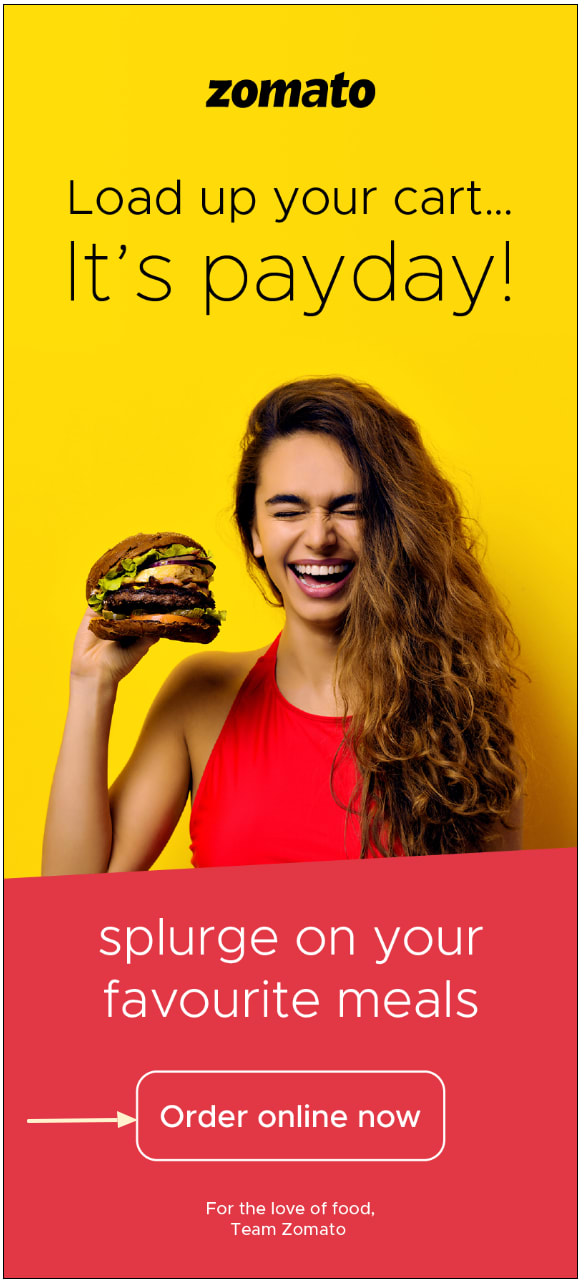 Further, boost your conversion rate by including your landing page as a part of the CTA. So, when recipients click on the "Learn More" button they are taken to a specific page on your website, converting interested prospects into buyers.
A clear, eye-catching, and action-oriented CTA that creates a sense of urgency will help improve your click-through rates and conversions.
Summing Up
Emails continue to enjoy widespread popularity and indisputable benefits. This is making it difficult for marketers to ignore the potential of a great email marketing campaign. Email marketing is here to stay! So, use the tips shared in this post to structure a foolproof email marketing campaign that generates conversions and boosts your business profits.
---
Gaurav Belani is a senior SEO and content marketing analyst at The 20 Media, a content marketing agency that specializes in data-driven SEO. He has more than seven years of experience in digital marketing and loves to read and write about AI, machine learning, data science, and other emerging technologies. In his spare time, he enjoys watching movies and listening to music. Connect with him on Twitter @belanigaurav.
The post 5 Practical Email Marketing Tips for Aspiring Digital Marketers appeared first on Springboard Blog.